It is not in the stars to hold our destiny but in ourselves. - William Shakespeare



(Random quote of the day!)

Happy birthday to
Boss Mayi
(6 October)
&
Toma-sama

(October 7th, but it's already the 7th in Tokyo, Japan time anyway! & why did I say sama?! Lollll)
Please stay happy, and may everything you've ever wanted, get to you. :)
Otanjoubi omedetou~!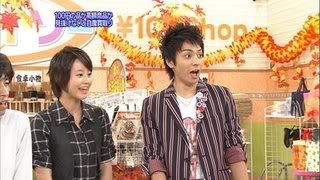 Toma still looks as cute with black hair~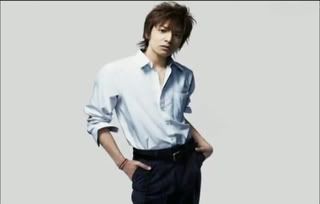 But I still think he looks the best in Hana Kimi Japan ♥
Also, happy
(early?)
27th monthsary to me & Darling, we've gone through another month together dear. :)
Let's stay happy, and fufill all the things we want to do together, okay?
No more quarrels in the future!
(But ironically, on the 27th... Lol)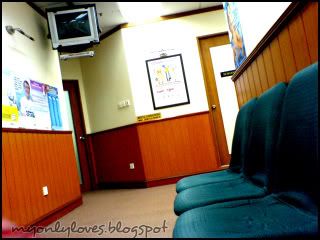 So, I ended up going to the doctor's alone last Friday. I was scared going alone actually.
But Darling's sis texted me and hurried me to go, so I did.
I half-expected it to be crowded, but it turned out to be quite quiet in the clinic.
I was darn scared initially, but the doctor was friendly though.
I remember him saying, "I'm gonna drip this into your eye, if your tears turn yellow, pink or blue, don't freak out alrights."
And after I wiped my tears they were bright. Neon. Yellow. Lolllllll.
(& the doctor didn't tell me that I didn't wipe my eyes clean of yellow tears,
no wonder when I was going home everyone gave me weird looks!)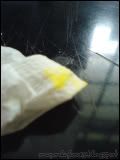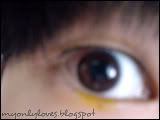 Yellow tearrrrrs! Lol. Doctor says I'm fine, overall, lah. Just no lens for 1 month
(T_T)
Thanks to the people who sms-ed/MSN-ed/email-ed me. I appreciate it! :)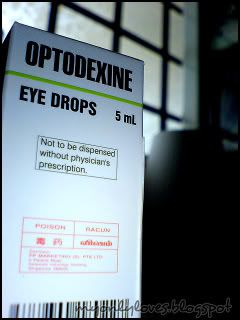 This is the Optodexine eyedrops the doctor prescribed. It's poison!
(Lol)
---
On a random note, I just knew October would be a bad month. It's just been 6/7 days,
but the number of bad things that've happened scares me.
My eye, darling, ____ with ___, and lastly, Dad. :(
But, thanks to those that tried to cheer me up! I'm very happy I have you guys as my friends.
Thank you, my ともだち
(s)
! (: