Today's picture: Darling and I got these while watching Harry Potter last time! Bad thing is, once the straw drops in the cup you can't get it out without opening the cap. (Which happened twice during the movie.)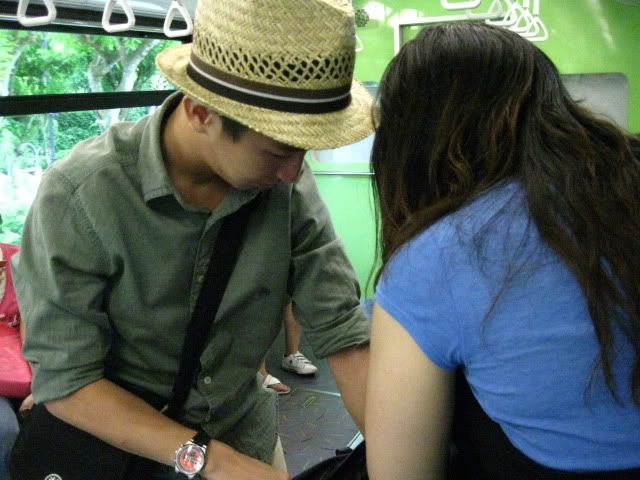 And here are the overdue pictures. Though I still don't have the complete set I decided to post them up anyway. We're on Sentosa Express here!
Looking completely touristy, Hui and Joel.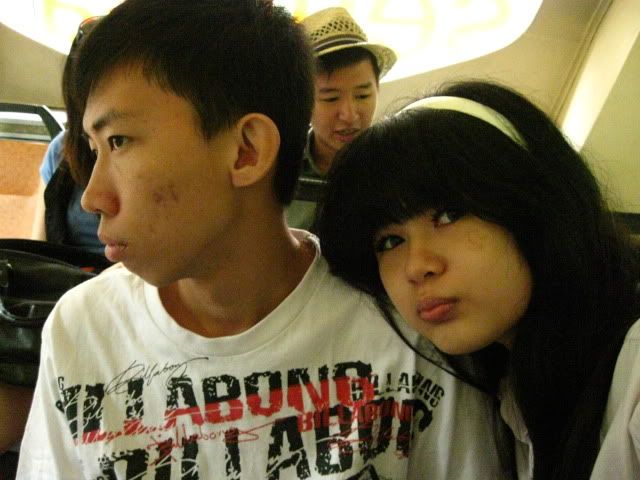 I miss my fringe. (Hui, see what I mean about hair = haystack? LOL.)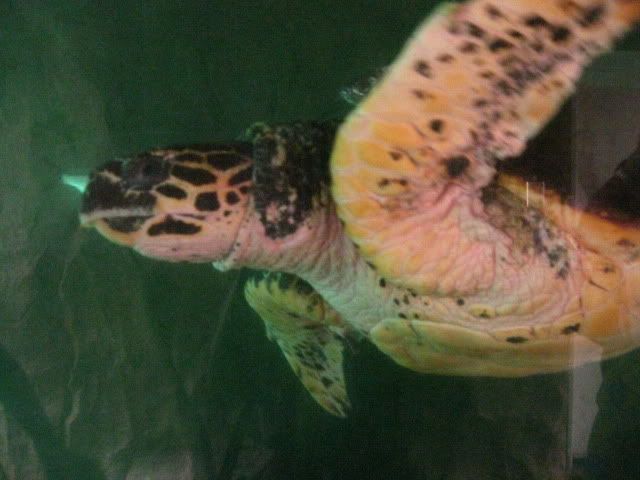 Underwater viewing chamber right outside the Underwater world, I always love coming here whenever I'm at Sentosa. (You don't even need admission tickets)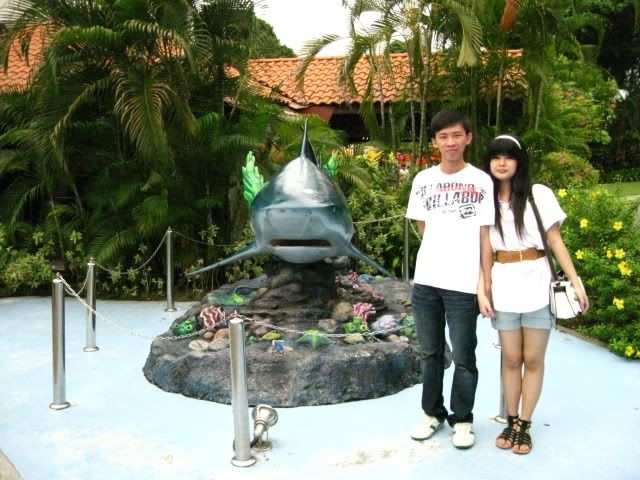 Fat thighs with skinny boyfriend. (*sigh)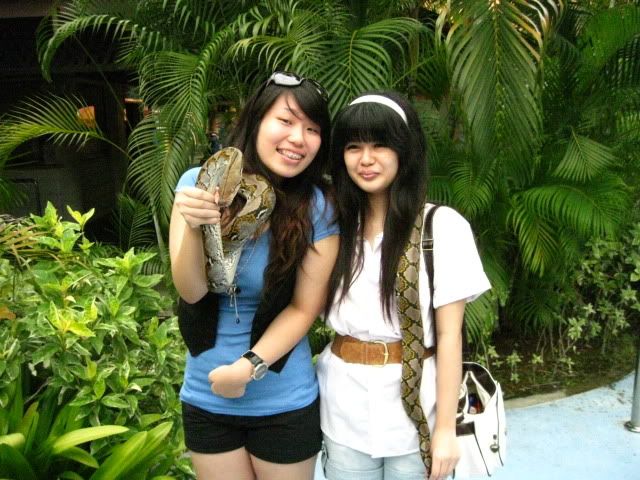 Snake trying to get into my pants. (As you can see I'm stiff because I didn't dare to move. I kept telling the snake handler; 'I don't want to hold the head I don't want to hold the head ahhhhh' HAHAH)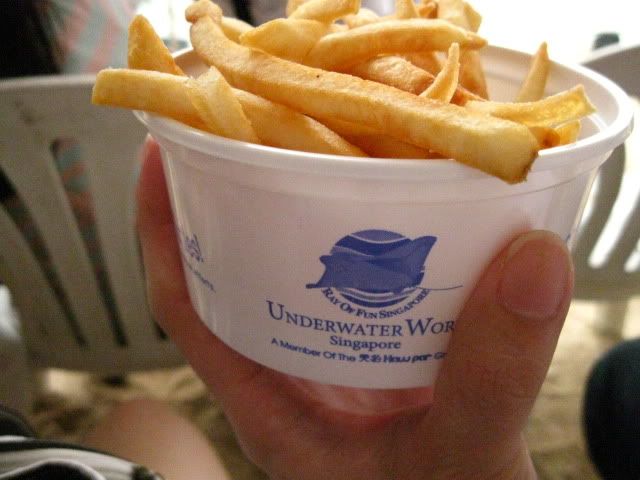 At the Dolphin Lagoon 30 minutes before the show starts. We just sat there and looked at each other. (LOL no I'm joking)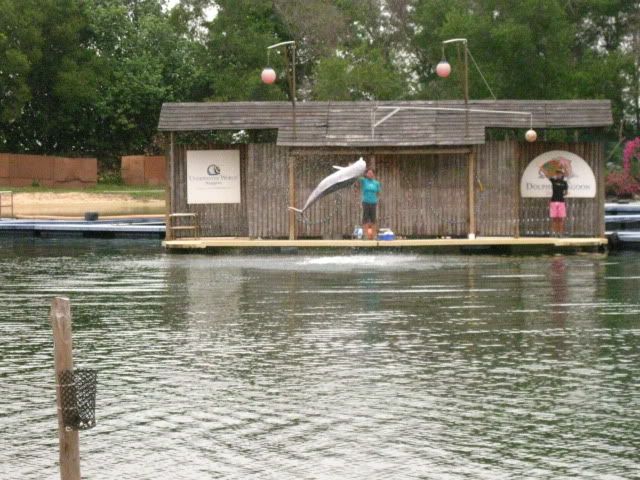 Continous shots are awesome!
See? Best invention I tell ya. (I put this picture as our desktop wallpaper and Darling went, "Flying dolphin!!" Totally wtf)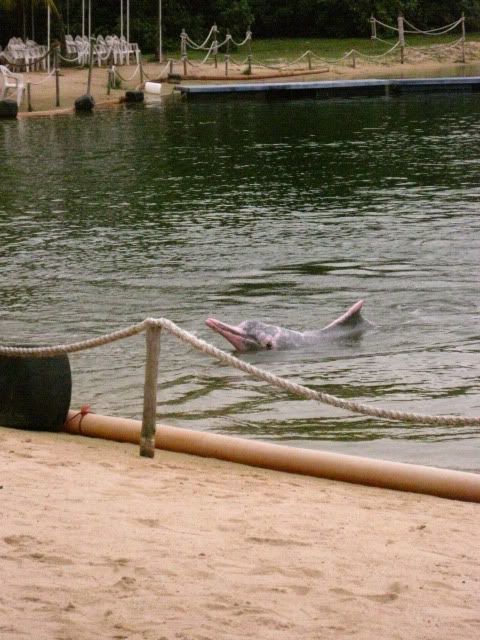 The more pink it is, the older it is.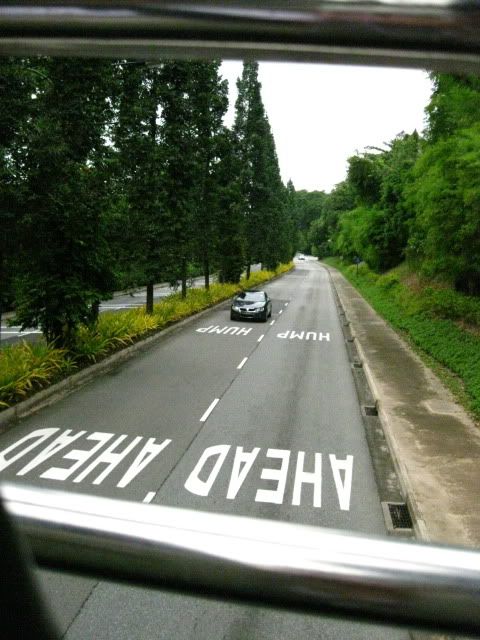 We all agreed that this bus ride was the best part of the trip, being on the open-top bus!
We took a full round just to enjoy the breeze and scenery, and it was greeeeaaat~(And we didn't have to spend a single buck LOL)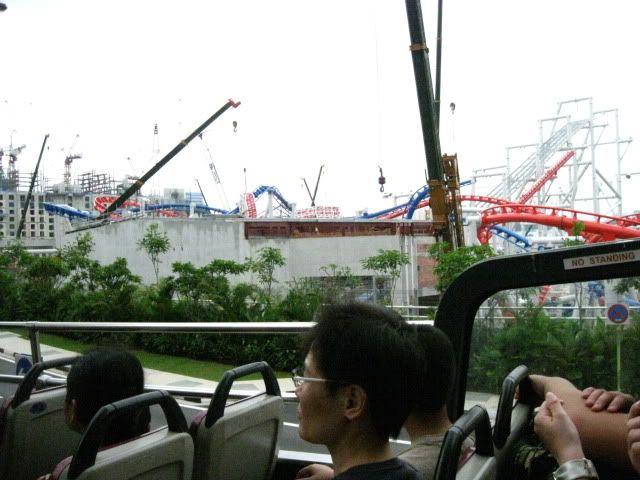 Rollercoasters at Resorts world in midst of construction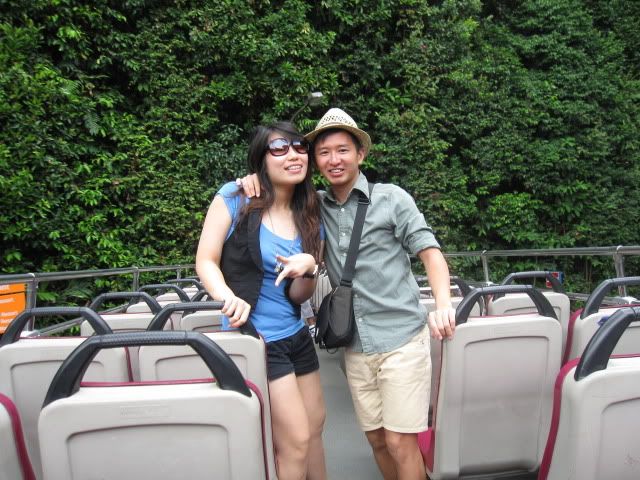 Besties in another touristy shot
They decided to get airbrush tattoo (Is that what you call it?)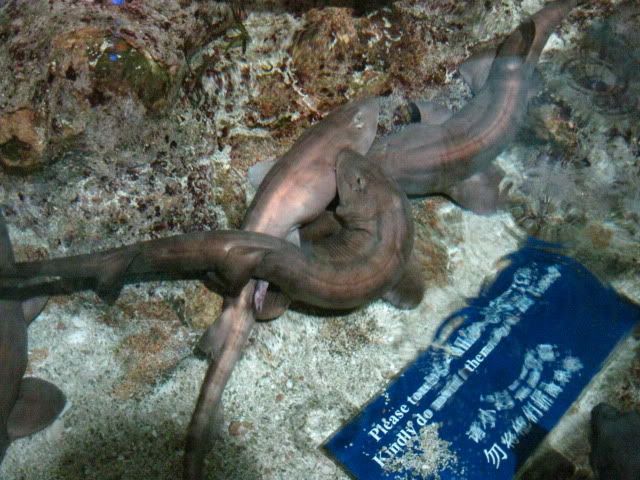 The first thing we noticed after stepping into Underwater World was the reef sharks attacking one another :(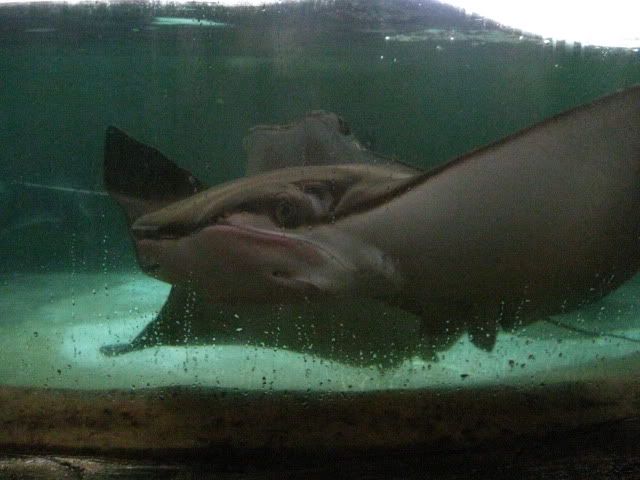 We also fed the stingrays, where I was scared stiff that they would bite my hand off. (They didn't.)
(I thought they were quite stingy with the amount of food given, though. 6 pieces of
extremely
small meat for $3 wtf)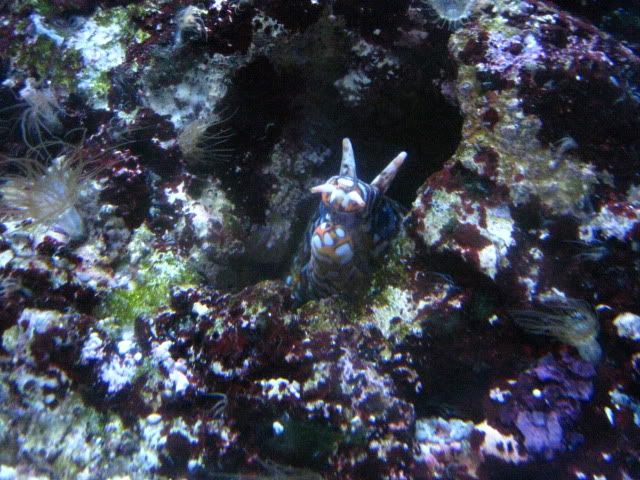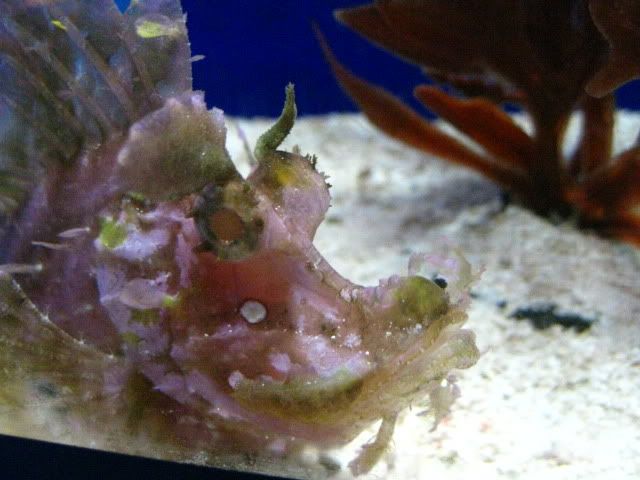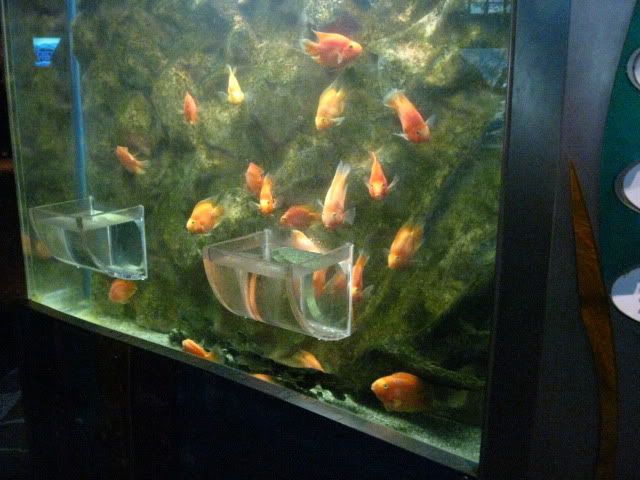 Once you put your hand in they'll be sure to swim away. (Unless you've got food, which is a different story.)
Sea Angels!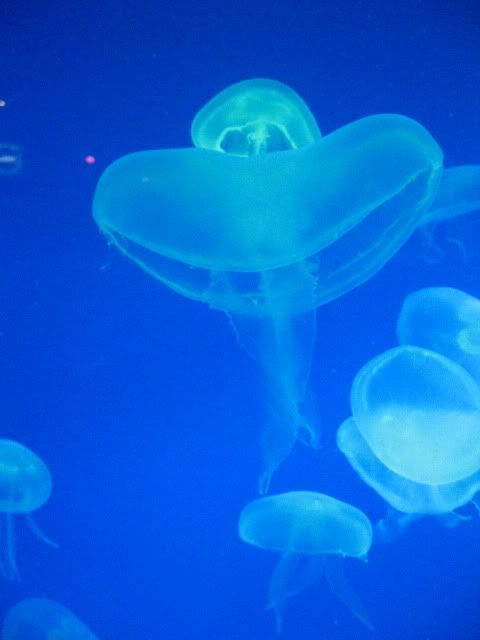 I told Darling that I liked jellyfishes cos they swim (or float?) rather gracefully (In my opinion) Darling thinks they are evil creatures who sting people. -_-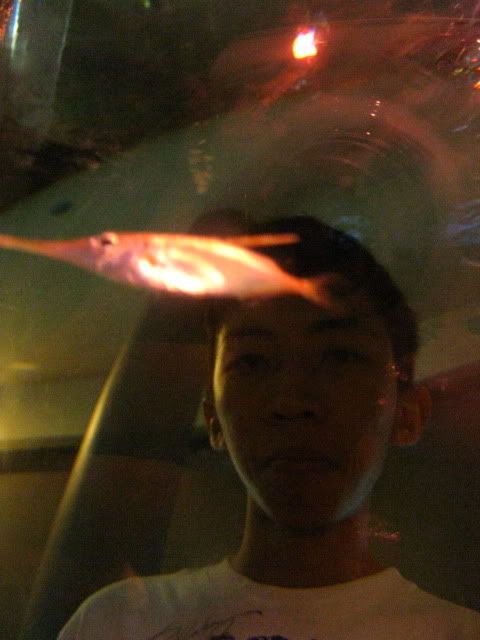 At the
Living fossils
exhibit. You can climb in this thing and see the fossils from the inside, though I'd recommand not doing so cos it kinda smells in there.
(LOL @ Darling's expression)
Hui making a funny face at me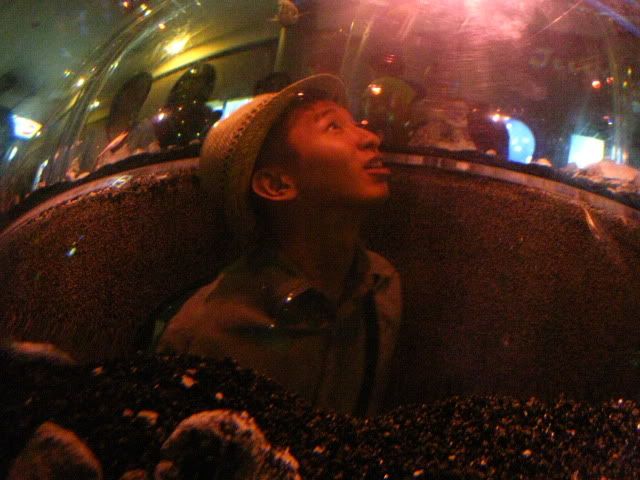 Joel in wonder in the exhibit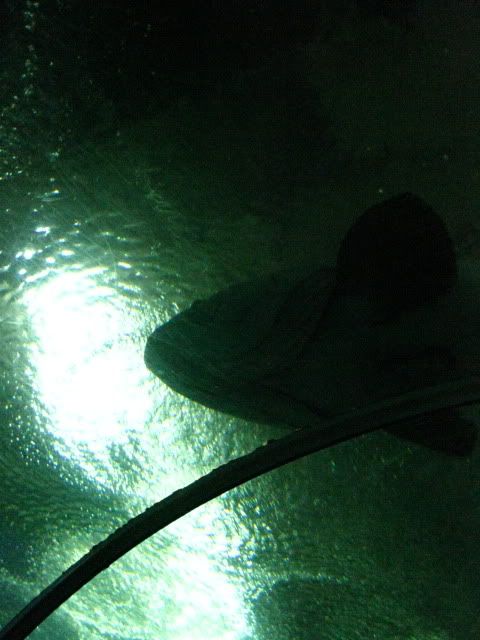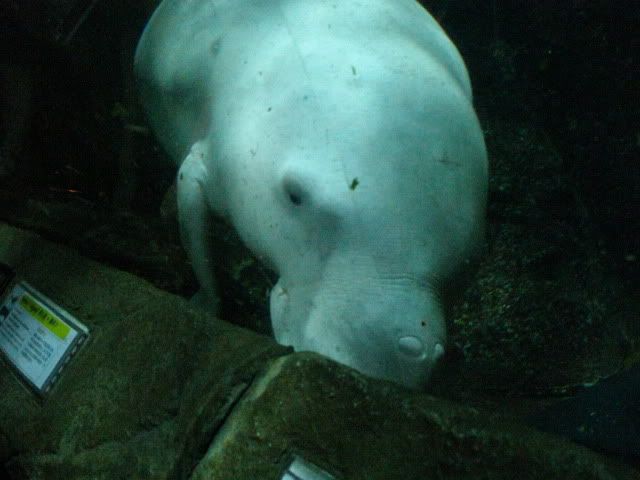 Dugong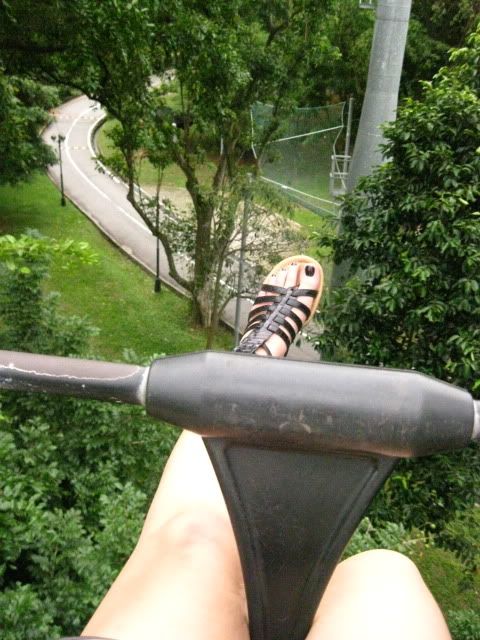 More photos of the trip are available
in my facebook albums
and also
Hui's facebook account
!
(Next time we should totally go to the
Megazip Adventure Park
! *hints)
Darling and I are obsessed with these machines lately, anyway. We went to Iluma on Tuesday (?) and spent over $50 on them -_-
I told him it's okay if we don't catch anything, but what can I say, stubborn boyfriend. (Stubborn boyfriend = stubborn girlfriend)
And we are totally obsessed with this game of late! Though the story is quite repetitive the different characters are fun to play around with, both the good guys or the villians.
Favourites to play are definately Squall and Cloud, easier navigation (and cute
ahem
) in my opinion.
(They sound better in their original voices as compared to the english version :/
Youtube link
)