the time now is like . 11:09am . my darling is sleeping VERY
VERY
soundly on
MY
bed . && . i havent slept from last night . cos . i woke up only at
6.30
pm yesterday . LOLS ! i sincerely think that my body clock is going
GAGA
liao . waking up at night sleeping in the day . dunno what will happen when im off to visit my relatives next week . they all wake up le i still
zzz-ing
. LOL ! i'll be gone from
MONDAY - FRiDAY
! gahs , so sad luhs . dont feel like going de but mom buy tickets liao . =(( later i kenna flood by the waters how luhs . =.= honestly i really freaking scared luh not kidding =.=
BLESS ME
! =DD
as for my hair . has a haircut on wed & turned out
freakingly
horrible luhs . my mom she kept telling the hairdresser
aiya cut more so short !
. thn i was like .
NO !
in the end ? FREAKING
UGLY
HAIR . my hair now until my shoulder nia lor . =(( then my fringe is like
****
. shouldnt have gone with my mom in the first place .
REGRET
-TED !! =(((
went to the esplanade on new year's eve with my dear to see the fireworks ! before that we wanted to head to marinasquare to eat but met his friend
and i got treated like i was transparent . your friend there you must leave me aside & stand so far away from me de ma
. was so pissed i didnt feel like eating le . so we went to the esplanade but wait till halfway it started to rain . =.= we took the breadtalk plastic bag ,torn it into half thn sat on it . so
sad
rights ! on the last day of new year somemore .
LOL
. after waiting for sometimes the rain
FiNALLY
stopped & we watched the fireworks ! it was
nice
but some stupid GiRLS we met at the roads there ruined it . they were
VERY
RUDE lor . they wanted to jump down from the barricade they were sitting on but cos there were kids & people we would rather them exit from the back ma . thn they not only jumped down (with the danger of stepping onto us) without saying anything they still say ,
we're singaporeans ,too bad
. DOTS LOR . I'm a singaporean i dont see myself doing the things you do rights . first time i met SiNGAPOREAN GiRLS making me think they're RUDE !
i watched
DEATHNOTES 2
last week ! like finally . watched the movie at Yishun with my dear =)) omg , the white SHiNiGAMi is so
shuai
lor &&. so
WEi DA
. die for Misa . gahs ,sad luhs ! Light still make use of him . zhen shi de . but Light really died a very
unglam
death lor . compared to L & all . lOls . reallyreally in love with the movie ! && wanna rewatch it next week with xbear ! =DD
made for my fellow
MiDNiGHTSAFARi
! =DD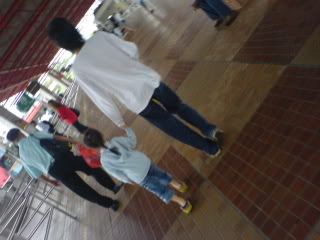 GAHS ! so
sweet
rights =)) the older brother holding his lil sis' hands =))) awwws ><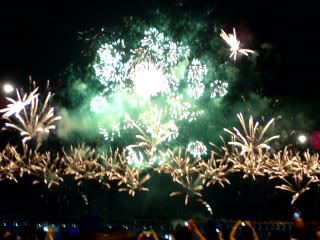 fireworks that day . only got afew cos i forgot to upload the rest . LOL .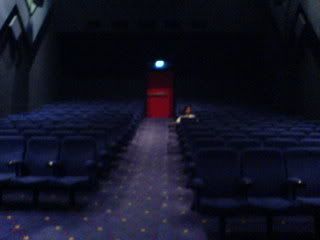 the hall where we watched deathnote . is
EMPTY
. the white person is not ghost hor , is my
dear
. LOL .
GAH !! i
miss
my
hair
)))=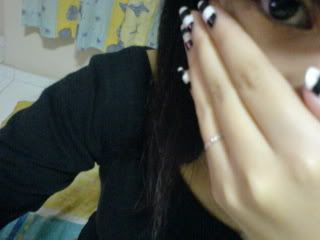 i shall speak nothing ,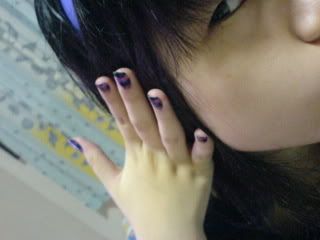 & hear nothing .
cos this way ,i'll be hurt the
least
.
as days go on ,i go on&on thinking that i cant live without you .
it's you that i love ,you that i depend on .
i sometimes wonder am i getting too dependent on you ?
almost every lil' thing i turn to you , for answers ,solutions ,everything .
almost everything i asked for ,you gave it to me .
why am so blessed to find someone like you ?
yet sometimes i ponder who will be the one collasping should we seperate ?
thinking too much again -`

WHY ARE YOU ALWAYS LIKE THAT?
im like that ,take it or leave it .

I JUST REALIZED NOW THAT I LOVE YOU
but i dont .. i only love my dear ((=

LEAVE HIM/HER ALREADY. YOULL BE MUCH
MORE HAPPY WITH ME
impossible .he's the only one who can bring me smiles ((=

COME ON. SMILE. YOU'RE CUTE WHEN YOU
DO `
lOls . erhs ,thanks .

PLEASE DO MY MATH HOMEWORK TOO
i'll do it if you'll willing to fail . LOL .

I AM SO BLESSED TO HAVE SOMEONE LIKE
YOU
you're welcome . (((=

WHY DOES MONDAY COME BEFORE TUESDAY?
cos sunday comes before monday .

I HAVE TWO TICKETS TO THE LINKIN
PARK CONCERT. WANNA COME WITH ME? `
if it's Lucify or 5566 i'll consider .

YOU ARE ONE OF THE MOST SPECIAL PEOPLE
IN MY LIFE. DID YOU KNOW THAT?
ehhhs . okaays . now i do .

I KNOW YOUR EMAIL PASSWORD.
rights . unless you're my dear or xiaoPiGG luh .

I THINK IM FALLING FOR YOU
..... dont luh .

I CANT SMILE WITHOUT YOU
& i cant smile without my dear ))=

THANK YOU FOR EVERYTHING, BUT YOU
JUST ARENT HIM//HER
i know ,it's alrights ((=

NOTHING!
nothing jiu nothing luh ,so fierce for what ))=

WHATS YOUR MOBILE NUMBER?
aint gone one =PP

CAN I HAVE THIS DANCE
dunno how to dance luhs . might step on your foot .

MAY I ESCORT YOU
thanks ,but no thanks . ((=

DO YOU STILL LOVE HIM//HER TIL NOW
i only love my DEAR .

YOU WERE EVERYTHING, EVERYTHING THAT I
WANTED
that was just your illusion .im N0T .

WHEN WILL I GET UR SWEET EYES?
o.O you want i can dig out for you . LOL . =xx